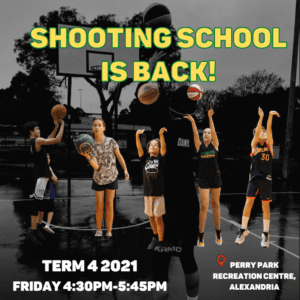 SHOOTING SCHOOL IS BACK! TERM 4 2021
COMETS SHOOTING SCHOOL – Can't Shoot Can't Play!
The Shooting School is a high intensity program designed to give athletes the necessary fundamentals on perfecting the shot and improving accuracy from all areas.
If you want to learn how to maximize the amount of shots you can get up in a given amount of time, perfect your technique, and be confident in putting up a shot any spot around the ring, then register below.

THIS PROGRAM IS NOT FOR BEGINNERS.
The 9 week program will be run by Sydney Comets Development Manager Paul Mellett and other experienced coaches. All coaches have a valid working with children check.
The program includes live video analysis providing quick visual feedback and learning for players.
COST:
New Participant: $250
Returning Participant: $225
TIME: 4:30pm (for a 4:45pm start)-5:45pm (1 hour)
WHERE: Perry Park Recreational Centre (BEHIND COMETS STADIUM)
1B Maddox Street Alexandria NSW
DATES:
FRIDAY
8th October
15th October
22nd October
29th October
5th November
12th November
19th November
26th November
3rd December
WHO MAY ATTEND?
Boys & Girls aged 10-17 years old with basketball experience who play either local competition, school or representative.
Limited to 40 participants.
All players are to bring your own basketball, a full drink bottle and wear suitable footwear and attire.