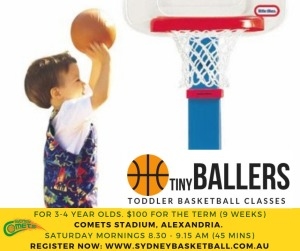 TERM 3 – SOLD OUT
Tiny Ballers is City of Sydney Basketball Association's newest basketball class for 3-4 year old's designed to develop hand-eye coordination, movement, skill development and confidence. The class introduces the children to basketball fundamentals such as dribbling, passing and shooting whilst focusing on participation, team work and fun. This class has been introduced as a pathway for our Tiny Ballers to develop skills before participating in our Aussie Hoops programs.
Tiny Ballers is a parent friendly class, and we encourage the participation of parents should your child need some extra encouragement.
The classes will be run on Saturday mornings 8:30am-9:15am at Comets Stadium, 53-57 Maddox Street Alexandria during the school terms (for 9 weeks.) From Saturday 27th July to September 21st 2019.
The cost for the term is $100.
Register HERE
For more information, please contact Lia on (02) 9699 3822 or info@sydneybasketball.com.au